Glastic Realistic Doll Eyes are round acrylic eyes with the look of glass and have natural color, depth and sparkle. Each pair of doll eyes is carefully matched.
Glastic-Realistic Eyes feature both realism and value.
Doll Eyes come in carefully matched sets.
Packaged In Durable, Hard Plastic Cases.

For sculpting purposes Glastic Doll Eyes can be heated up to 158░ F. for up to 3 hours - or for up to 15 minutes at 212░ F.
Size Note: Sizes shown below are for the overall diameter of the doll eye. Diameter of iris (colored portion of eye) is approximately 1/2 the total diameter shown below for each eye.
Click on Images to Zoom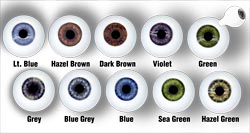 Glastic-Realistic
DOLL EYES
Dimensional irises show great depth
of color. Selected eyes in popular colors & sizes.
[ Prices Listed Below ]
Stock Number
Color, Size or Description
Unit
List
Price

Quantity Price Breaks

Add to Order
1
Qty.

Minimum TOTAL Merchandise Order Is $19.
To order an item, add the quantity you wish in the blank space provided. Then click on the Order button to add it to your shopping basket.
To see OTHER DOLL EYES & NOVELTY EYES
click on Selections below: